Meet the latest innovation in sailing, Reverso Air
Measuring 3.40 metres in length, Reverso Air is a compact, lightweight dinghy. Small yet mighty, Reverso Air is one of the latest innovations in modern sailing. Reverso's sleek design is foldable, transportable and incredibly durable, making it one of the most inventive small sailboats on the market today.
Stemming from the shared dream of creating the most compact and lightweight performance yacht in the world, Reverso Air's unique design was inspired by racing. Able to fold to just 1 square metre, Reverso Air is completely dismountable, so she can easily fit into the trunk of any car, garage or basement, eliminating logistic issues linked to storage. Large enough to carry up to two adults or one adult and two children, Reverso Air is fully transportable yet incredibly durable. Founded by sailor and pilot Antoine Simon and his team of passionate visionaries, they sought to make a small sailboat with modern, powerful, sleek, streamlined lines.
"The culture of excellence is what has nourished the project from the beginning," says Simon. The Reverso Air design team sought to put the user in the centre of the design, rethinking every step of the design and assembly process. The high-tech materials and composites used to build each Reverso Air are the most reliable in the world, adopted from various sectors like offshore racing, extreme sports, motor racing and aeronautics. Reverso Air features a full carbon mast, a state-of-the-art membrane sail and a premium glass and carbon infusion planing hull. Offering uncompromised rigidity due to its patented TENSION DYNAMICS® system, Reverso Air is safe and easy to control, even in more difficult waters.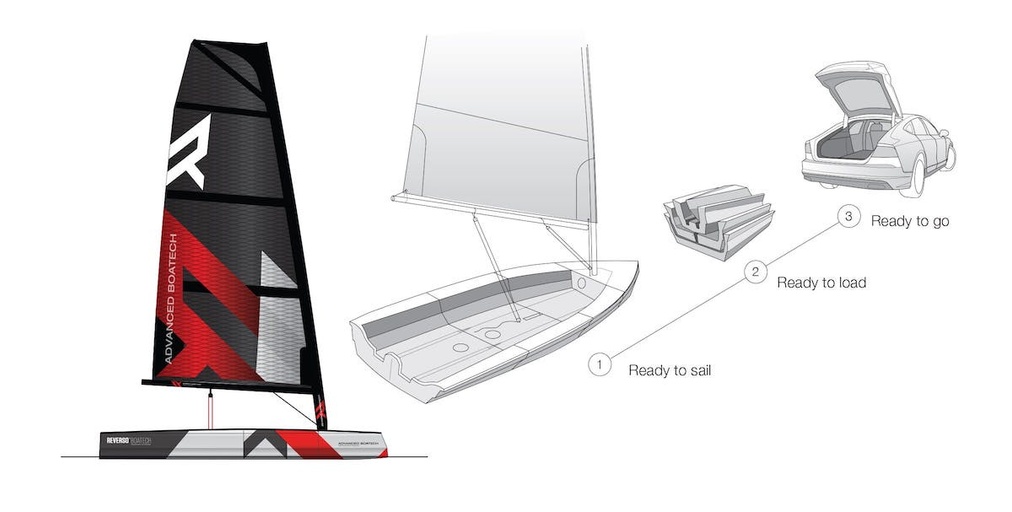 The aerodynamic design of Reverso Air ensures the user is able to reach high speeds with less effort and more flow, creating a more enjoyable sailing experience. What makes Reverso's design even more remarkable is the hull. The hull design features advanced naval architecture to facilitate high performance and maximise sensations. Made using vacuum infusion, this advanced technique ensures extreme cohesion of the hull, which is essential to resisting the opposing forces of the ocean. The infusion process allows for the best weight to strength ratio. Reverso's Air composite sandwich comprises a honeycomb Soric® core with side layers of carbon fibre.
The larger, flatter and lightweight sandwich hull design also ensures that the user has more control and manoeuvrability even while sailing faster. Easily dismounted into four lightweight pieces, the hull is light and can be carried easily, without any help weighing a total of 55kgs. Offering great floatability, each hull section floats independently as it features a closed, watertight, double-bottomed box filled with air. The lightness of the sailboat and the rig, simple to assemble, also makes it very easy to recover when capsized. In addition, the black membrane sail features digital fibre application according to the sail's forces and Dyneema ® fibre in its ropes, which is up to 15 times stronger than steel, making Reverso Air very safe to use.
A high-performance dinghy inspired by racing, Reverso can reach speeds of over 16 knots, allowing sailors to immerse themselves in their surroundings fully. Above all, Reverso Air is a modern sailboat designed for the user. Its cockpit enables the user to sail with a friend or your children. Its stability offers security in all circumstances. Its ability to be dismantled offers freedom of storage and also the freedom to sail wherever the user wants. It is designed for outdoor enthusiasts who increasingly share a way of life rather than a single passion.